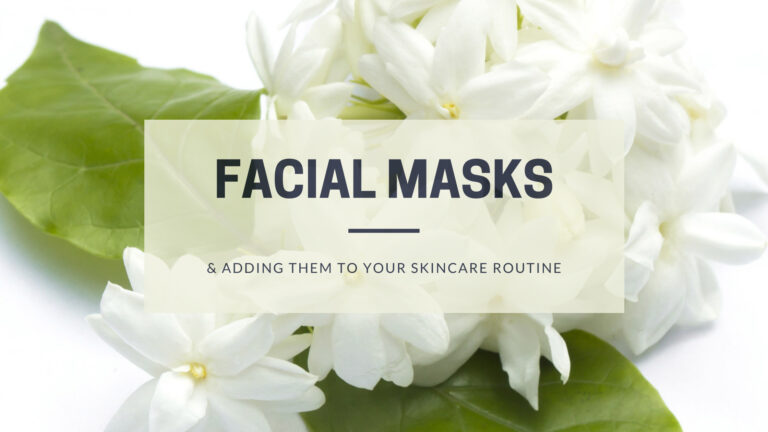 There are sooooooooo many beauty face masks on the market, and some with crazy claims and materials! Be careful with what you use on your face, there are some serious horror stories out there.
I have 2 personal favorites that I'd love to share with you. (Scroll down if that's all the info you want.) OR keep reading as to why you should add a beauty face mask to your skincare routine.
A regular cleansing routine will remove the basic dirt, toxins and grime your skin absorbs through the day (think of your skin like a filter). Cleaning it daily kicks out the basics, but once in a while a deep clean is necessary. Think of it like steam cleaning your carpets. Sure, you vacuum, but does it get to the bottom layer?
Enter the facial mask; your skincare steam cleaner.
A beauty face mask will help draw out the toxins from beneath the top layers of the skin. Using a specific face mask can help exfoliate dead skin cells, they can unclog and even shrink your pores.
Deep cleaning for the skin. Let's get down to the 2 I use from Nu Skin and why.
My 2 Go-To Beauty Face Masks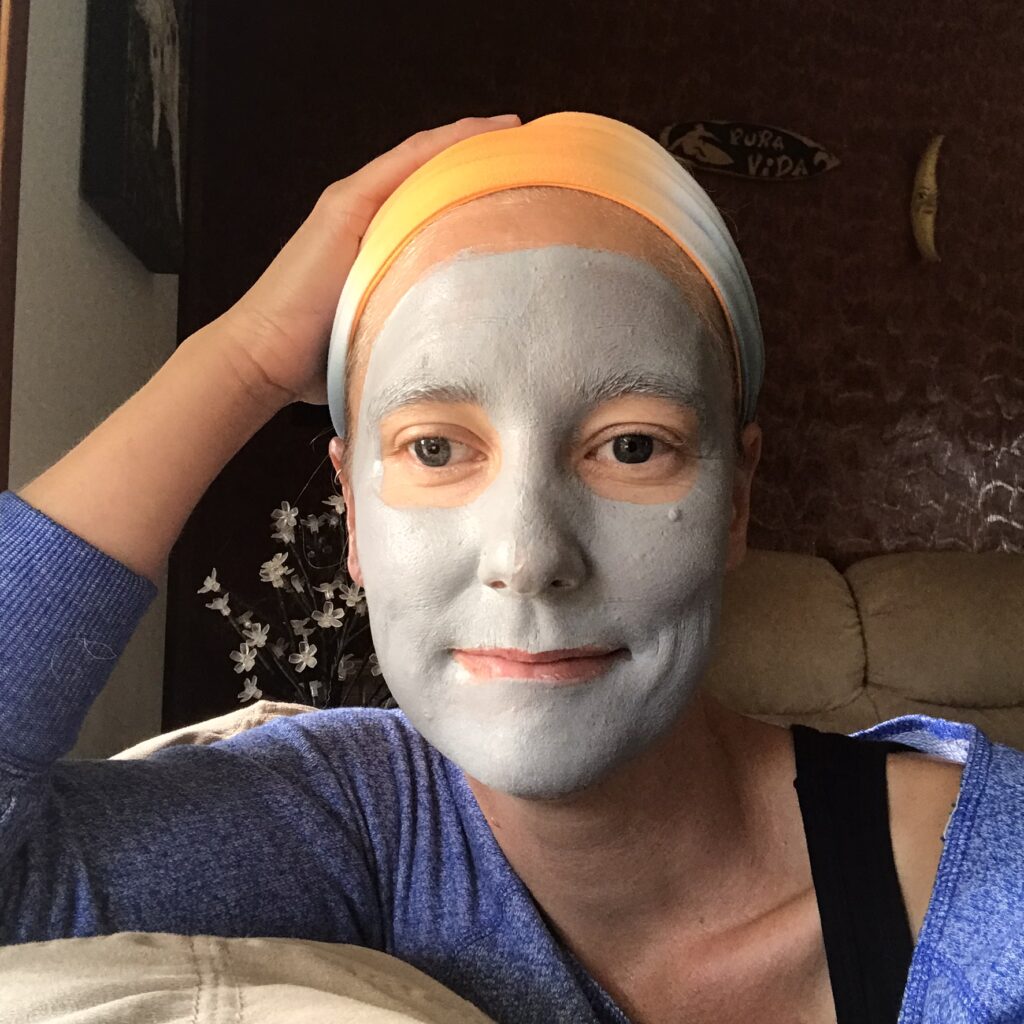 First up, the Yin & Yang Mask
Detox AND nourish in ONE?? Yes people, this face mask boasts it all! A true to it's name Yin & Yang beauty face mask. See the picture above? It kind of makes me look like a smurf, and I love it!
This mask allows you to either nourish OR detoxify OR both! Apply as-is to nourish and massage into skin to activate the charcoal detoxing side.
The particulars:
• Features specially sourced porcelain flower grown through controlled environment agriculture (ask me about that neat feature!)
• Detoxifies skin for a fresh and luminous look.
• Delivers nourishing phytonutrients to reveal softer and smoother looking skin.
• Leaves skin looking smoother, healthier, and brighter.
• Leaves skin feeling fresh, soft, and balanced.
• Jasmine sambac helps to de-stress and promote inner harmony for a lit-from-within complexion.
BONUS!!!
The Tube is 38% post-consumer recycled (PCR) plastic to support our commitment to protecting our planet. This also means every package features its own unique look and feel.
The How-To:
Use the Yin & Yang mask to nourish and detoxify your skin. Here's where the 2 in 1 comes in…

1. To focus on nourishing, apply a generous, even layer to clean, dry face and leave as-is.
2. To focus on detoxifying, apply then massage the mask to release the microencapsulated charcoal.

Let dry for 10–15 minutes, then rinse thoroughly with warm water
Next up, the Glacial Marine Mud Mask.
I also call this my "HULK" mask lol! It does give you a green face and it is oh so good for you! The Glacial Marine Mud mask exfoliates dead skin cells & shrinks those pores!!
The Particulars:
Minute colloidal particles of Glacial Marine Mud act as an emulsifying agent by forming a barrier around oily particles, thus allowing them to be removed.
Deposits more than 50 skin beneficial minerals and trace elements to nurture the skin.
Softens and purifies the skin. By attracting water, the mud helps to hydrate the skin.
Helps draw out impurities and toxins.
The How-To:
Apply a generous layer of mud to skin, avoiding mouth and eye areas. Let mud dry 15 to 20 minutes or until it turns a light aquamarine color. Rinse thoroughly with warm water. Use Epoch Glacial Marine Mud two to three times a week. To be honest, I use this one once a week.
So, which Beauty Face Mask is for you?
Check out this wicked infographic on the benefits of both and choose what suits your skincare needs! Or get both & switch it up.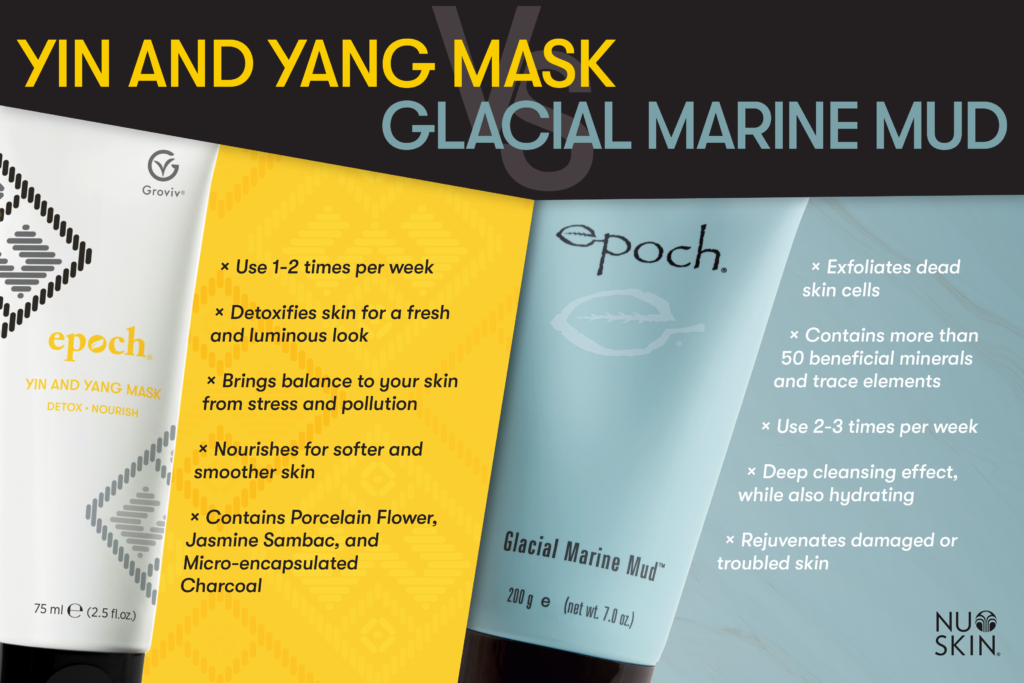 Thank you for reading! I hope you like this content, check out my last post as well! If you have content ideas, leave me a comment or message my Facebook Page.