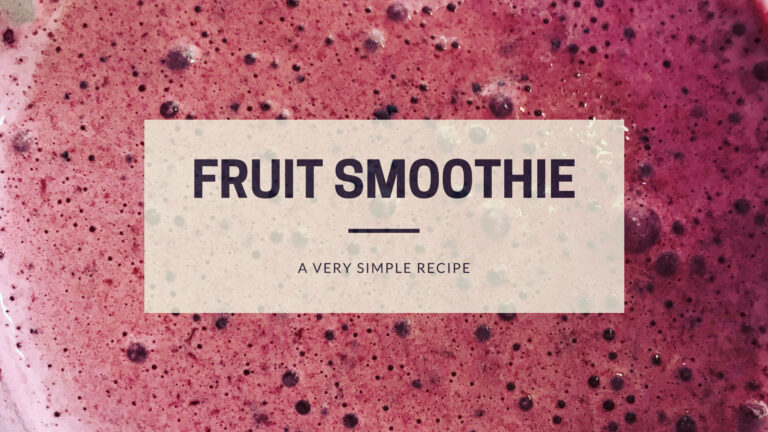 Smoothies! Who doesn't love them? Read on for a really simple fruit smoothie recipe.
Let's break down the ingredients first, then we will get into the recipe.
Why Smoothies
Why people love them? Because you can pack a TON of nutrition into a glass (when you use the right mix). You can have a glass full of super-foods, vitamins and minerals, therefore, they are a great snack.
Berries
Berries are your antioxidant friends and this is the main ingredient to my fruit smoothie recipes. They are one of the healthiest foods you can eat. Berries are high in fiber, packed full of nutrition and are great for the skin (if you don't have allergies that is). Out of season? Grab a bag of mixed frozen berries at your local grocery store!
Juice or water?
BOTH! Careful with using juice as a mix as all juices pack a whole lot of sugar! I choose cranberry juice BUT I cut it with water. Cranberry juice simply adds to the nutritional value of these fruit smoothies, and I always choose my liquids as half water, half cranberry juice.
Yogurt
I like to add it, but if you are dairy free then skip this ingredient. It adds a smoother texture to the smoothie along with added vitamins and minerals.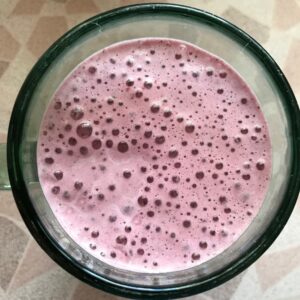 Let's talk shake mixes
Here's where things can get complicated. What shake mix do you use? I have 3 favorites ALL from the same company because I know (thanks to their incredible science) that these mixes are full of the good stuff and no sugar!
Protein Shake Mix
When to use it: of you're looking to muscle up, this is your go-to. Protein repairs tissue, and can help build muscle. The ageLOC® TR90® Protein Boost is derived protein from 2 plant sources pea and rice protein. This protein shake mix is also lactose-free, gluten-free, soy-free and vegetarian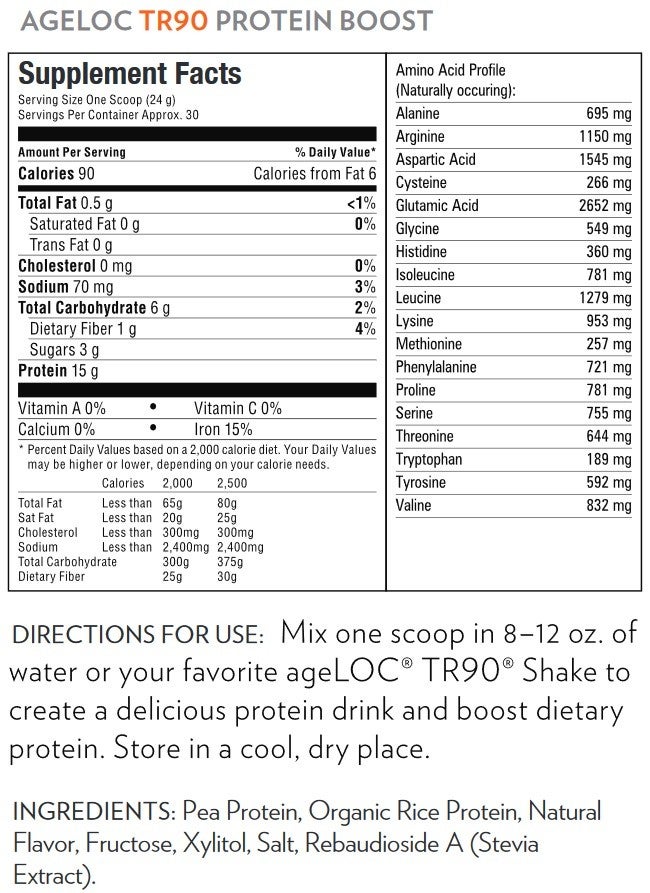 GreenShake
This one is all about the green goods. The ageLOC® TR90® GreenShake is lactose free, gluten free and soy free. It is also vegetarian. The greens in this shake are; wheat grass, alfalfa, spirulina, chlorella, beet root, spinach and barley grass.
TrimShake
THIS is IT. I love this shake mix and is often the one I use! Why? Because it's more than just greens or just protein. It helps you control calories, helps reduce food cravins and is a great source of the high-quality protein that your muscles need. The ageLOC® TR90® TrimShake comes in Vanilla or Chocolate and is super fantastic!
Chocolate Nutritional info;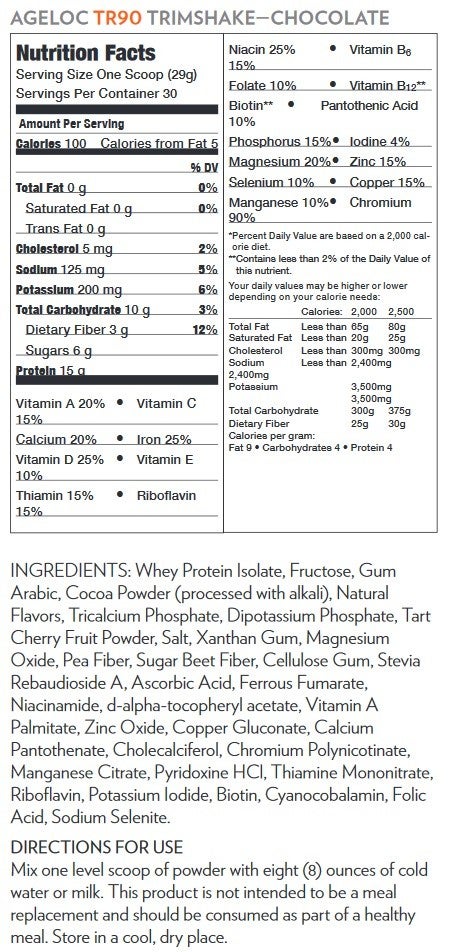 The Fruit Smoothie Recipes
I'm going to give you 2 that can be switched up so easily to suit your taste-buds. Some smoothie recipes can be super complicated, but here are two that can be mixed up in a simple way.
In a blender add together:
A half cup of water
A half cup of cranberry juice
1 cup frozen berries
3 tbsp yogurt
1 scoop of Protein Boost OR GreenShake OR TrimShake (see them all above)
Blend until all the fruit is pureed and serve! Makes about 4 tall glasses.
To mix it up, simply take the above recipe and switch it up like so:
1 cup water
1 cup of frozen berries
and add 1 scoop of Protein Boost OR GreenShake OR TrimShake (read about them above)
It really is that simple. Add an ingredient, or remove one! Pick a shake supplement that suits your needs, grab a bag of frozen berries, some water… and voila! A super easy, nutrition packed fruit smoothie recipe!
Thank you for reading and enjoy your journey into fitness!
Bringing you the latest in Beauty, Fitness, Life/Style! Be sure to check out our other blog posts and the SHOP! Leave me a comment if you enjoyed this post or if you have ideas for other posts as well.
For more inspiration and motivation in the world of Beauty, Fitness and Life & Style, follow me on Instagram and Facebook!