and Breathe… Meditations and Mantras for Greater Calm, Balance, and Joy
This is a book you need to add to your collection, especially if you're new to meditation practicing mindfulness! This book is filled with meditations and mantras to help guide you along on your mindfulness journey.
and breathe… Meditations and Mantras for Greater Calm, Balance, and Joy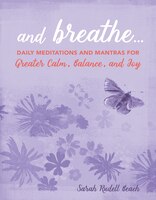 I picked this little book up at Indigo a while back and just opened the pages (honestly, I have so many books and keep buying more lol) so it takes a while to get to my new ones!
Why practice mindfulness?
If for nothing else, to become more aware of your surroundings, your actions, your feelings and how they impact your day.
According to the Oxford Languages mindfulness by definition can be;
the quality or state of being conscious or aware of something. "their mindfulness of the wider cinematic tradition"
a mental state achieved by focusing one's awareness on the present moment, while calmly acknowledging and accepting one's feelings, thoughts, and bodily sensations, used as a therapeutic technique.
When you start practicing mindfulness (or as I like to refer it to as awareness), you really do start to open up, wake up and live with purpose.
It's a tough word to explain and a tough subject to grasp with the how's and the why's of it all. That's where books come in handy, to help guide us. And this little book, I highly recommend.
How do Meditations and Mantras Work?
We all need guidance every now and then. Meditation teaches us to listen, to calm the mind & body. Mantras offer us reminders of what to tell ourselves. Often, we just need to stop and take a breath.
Breathe…
About the Book
"I Accept"

Chapter; Support
The colorful pages are packed with mantras, meditation tips & tricks surrounded in soft colors and I absolutely love the easy to read layout.
It's not your standard self-help book. This is a tiny book packed with legit mindfulness tips and the most simple & beautiful mantras that inspire!
This book will guide you with tip for your meditation practices and how exactly to practice mindfulness. You learn about self acceptance, forgiveness, awareness, self-care, how to listen to your body and so much more.
Most importantly, with each lesson you learn the WHY behind them and the HOW it all works!
"I can make any moment a mindful moment"

Chapter; Sustain
About the Author
According to the book, Sarah Rudell Beach is a mindfulness practitioner and educator with over 10 years experience, and 17 years of experience as a high school teacher. Her accolades are plenty and she is now on my personal favorite authors list 😉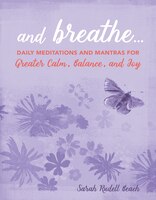 This little pocket book is a must have and one that is super easy to keep in your book bag for when you're on the go!
Thank you.
I am grateful to you. With hope you've enjoyed this post, please be sure to check my other posts as well. And remember to check out my PARTNERS SHOP as without them, this blog wouldn't exist. Every time you support them through the links in this blog, you support me as well, for this I truly thank you. Lastly, be sure to sign up for my newsletter to get a weekly mantra and more!
Have a wonderful day!!